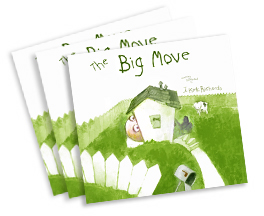 The Big Move
Children's Picture Book - Hardcover, 32 pages
What happens when you wake up and realize things just don't fit anymore? Follow our hero and his pet cow on their journey, as they conquer their obstacles in this story of courage and persistence!
The first 100 copies come with a complimentary The Big Move fine art print, as well as a CD audio reading by the author, a total value of $45. These are expected to move quickly, so reserve yours as early as possible by filling out this form, or by calling Amy at 801.375.3455.
1 copy: $19.95
2-4 copies: $18.95 each
5-10 copies: $17.95 each
11 plus copies: $15.95 each
Please reserve my copies of The Big Move!
Name:
Street Address:
City: State: Zip:
Phone Number:
Email Address: